Once you taste these Chai Spiced Health bars, you'll be turning your nose up at store bought brands.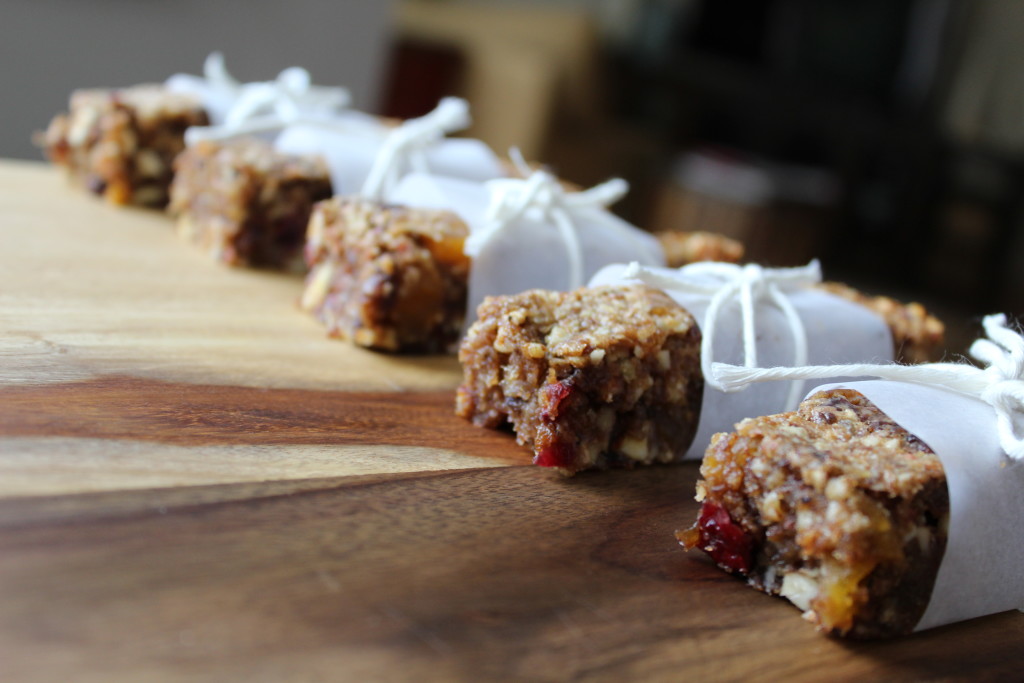 I have made so many variations of power bars, but these are my favorite.  The warm spices, cinnamon, clove, ginger and cardamom infuse these bars with a slight spicy flavor.  They are not too spicy, just think of a chai tea latte.  The spices are very subtle and do their job….they warm your body.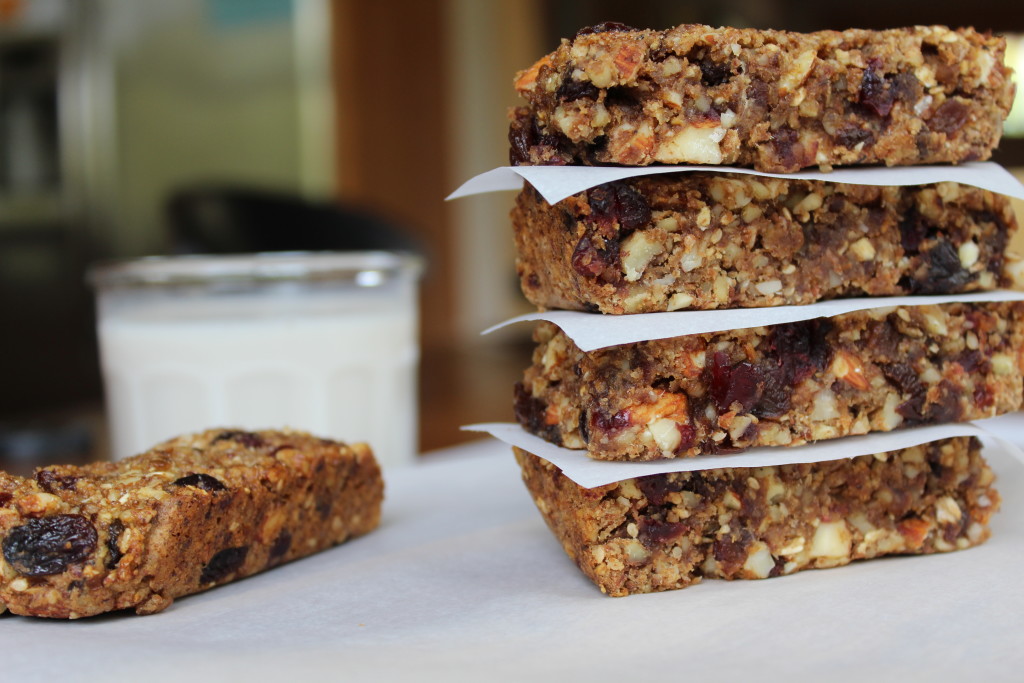 I recommend that you prep before you make these bars.  For example, toast the pecans and almonds the day before, cool and store them in zip lock bag.  Cut the apricots and remove the pits from the dates and store in airtight container.  I have learned that prepping the night before not only saves me time but it actually keeps my kitchen cleaner.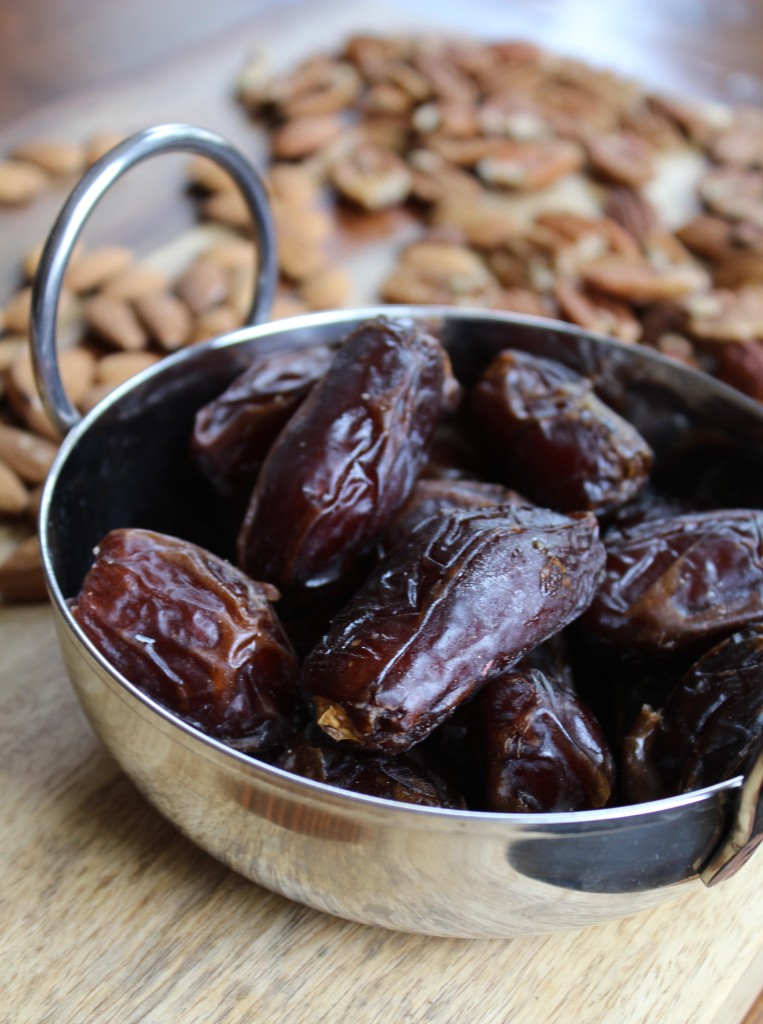 I use to call these bars granola bars but really they don't have that much granola in them. They are loaded with nuts and dried fruit and the only added sugar comes from the maple syrup.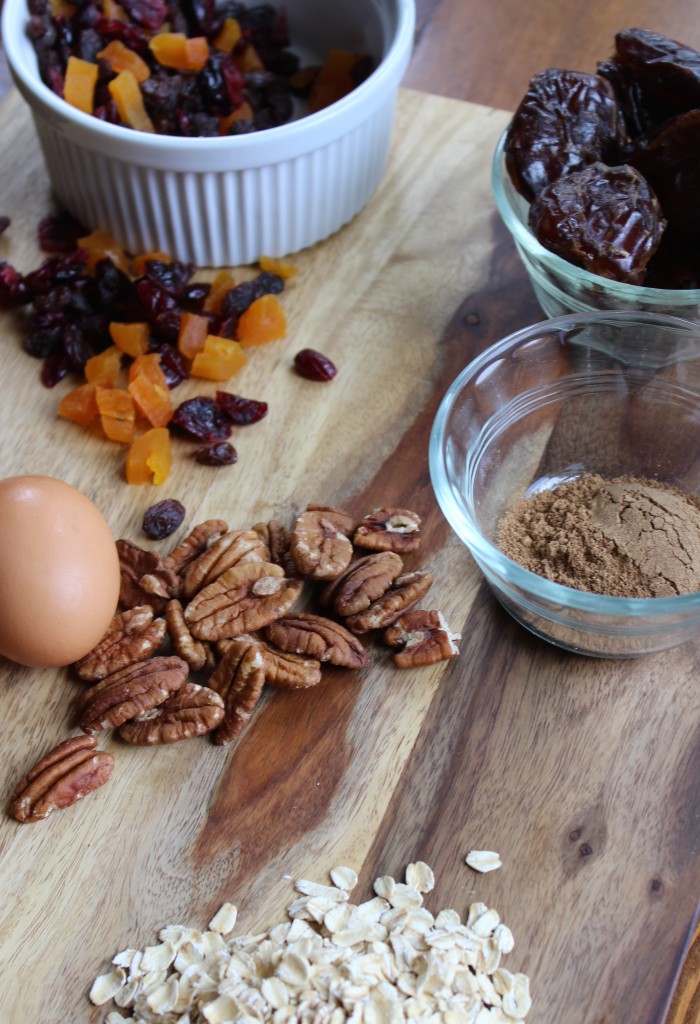 I found the Medjool dates at Trader Jo's.  They have the best prices on dates right now.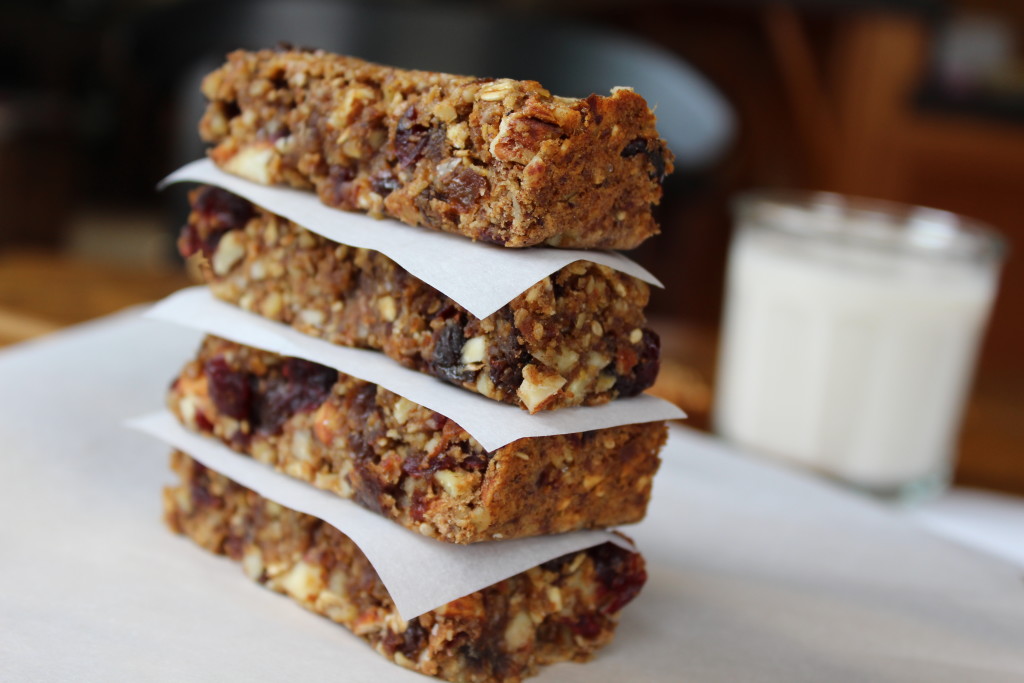 I just finished making 100 bars.  I packaged them in parchment and placed them in paper bags as gifts. These Chai Spiced Health bars are perfect for teacher and co-workers gifts. And of course they are ideal for when you need to fuel up before a big workout.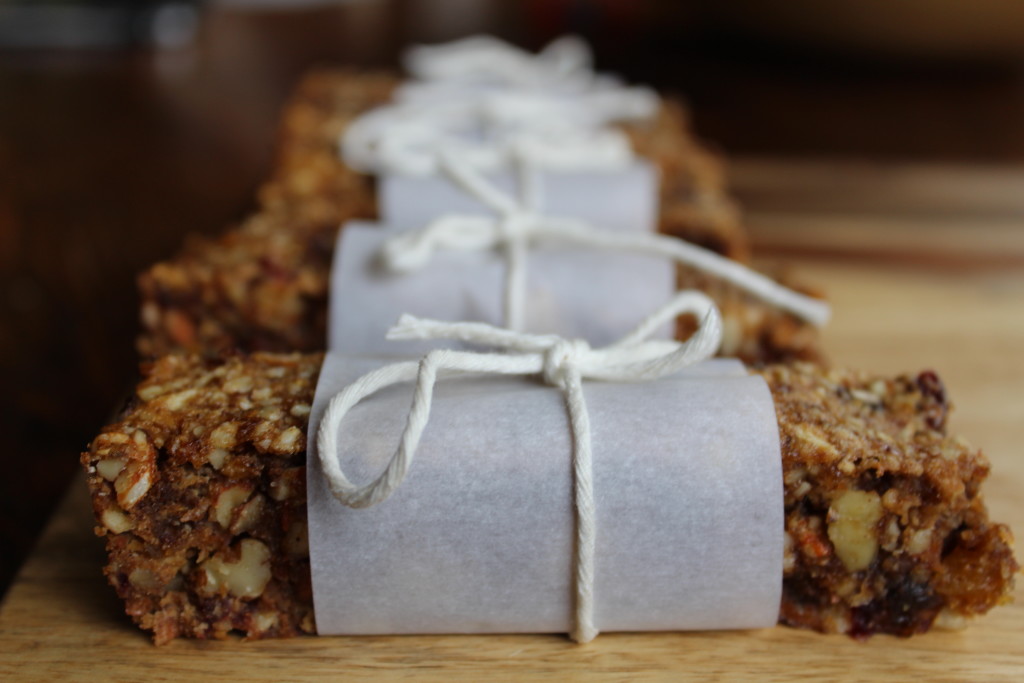 | | | |
| --- | --- | --- |
| Chai Spiced Granola Bars | | Print |
Adapted from The Cancer Fighting Kitchen
Ingredients
1 cup lightly toasted pecans
1 cup lightly toasted almonds
2 tbsp. spelt flour(I use organic)
2 tbsp. all purpose flour(I use organic)
2 tbsp. ground flaxseeds
¼ tsp. sea salt
⅛ tsp. baking powder
⅛ tsp baking soda
¼ cup old-fashion rolled oats
1 cup pitted Madjool dates
⅓ cup un-sulfured dried apricots diced
⅓ cup organic raisins
⅓ cup dried cranberries(sweetened with juice)
1 organic egg
5 tbsp. maple syrup
1 tsp. vanilla extract
1 tbsp. chai spices(ground ginger, cinnamon, clove, black pepper, and cardamom)
Instructions
Prep the day before:
Pre-heat oven to 350. Spread the pecans and almonds on a cookie sheet and lightly toast for 8 minutes on the middle rack. Let cool and store in air tight container.
Cut the apricots into small pieces and store in airtight container.
Make the Chai Masala(spice). Combine the ground ginger, cinnamon, clove,black pepper, and cardamom.

Make the Bars:
Preheat the oven to 350 and line a 8 inch square pan with parchment paper. In a food processor add the spelt flour, all purpose flour, ground flaxseed, salt, baking soda,baking powder and pulse 6 times.


Add the dates and oats and process for 10 seconds. Add the pecans and almonds and pulse 9 times. Add the raisins, cranberries and apricots and pulse 9 times.

In a large bowl whisk the maple syrup, chai spices, egg and vanilla extract until blended. Add the mixture from the food processor to the maple syrup bowl and mix until all the ingredients are well coated.

Spread the mixture in the pan and bake for 25 minutes. The bars should be golden brown. Let the bars cool for 15 minutes and cut into 10 bars.
Leave the bars in pan until completely cooled.